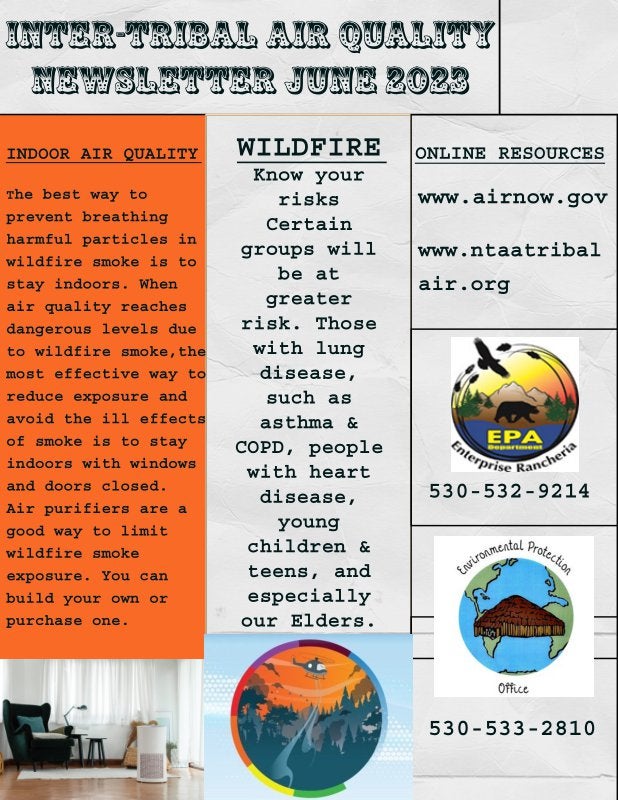 Enterprise Rancheria EPA & Mooretown Rancheria EPO have partnered together to provide tribal membership from both tribes' this helpful information. This is our third outreach and Air Quality Newsletter collaboration. This quarter we are educating tribal members on Indoor Air Quality and ways to stay as safe as possible should a wildfire smoke event occur. As fire season is off to a slow start but, we still need to keep membership informed if the occasion arises. In the newsletter there are links which we are also sharing here:
National Tribal Air Association
NTAA was founded in 2002 with a grant from the United States Environmental Protection Agency's Office of Air and Radiation with a mission to advance air quality management policies and programs, consistent with the needs, interests, and unique legal status of American Indian Tribes and Alaska Natives. Tribes are important partners with federal, state, and local agencies to protect ambient air quality, indoor air quality and mitigate climate change.
www.ntaatribalair.org & The Status of Tribal Air Report (STAR): https://www.ntaatribalair.org/status-of-tribal-air-report/
Air Now is your one-stop source for air quality data. Our recently redesigned site highlights air quality in your local area first, while still providing air quality information at state, national, and world views. A new interactive map even lets you zoom out to get the big picture or drill down to see data for a single air quality monitor. AirNow reports air quality using the official U.S. Air Quality Index (AQI), a color-coded index designed to communicate whether air quality is healthy or unhealthy for you. When you know the AQI in your area, you can take steps to protect your health. AirNow is a partnership of the U.S. Environmental Protection Agency, National Oceanic and Atmospheric Administration (NOAA), National Park Service, NASA, Centers for Disease Control, and tribal, state, and local air quality agencies.
https://www.airnow.gov/?city=Oroville&state=CA&country=USA
Our last announcement is the tribe is participating in the Air Quality Flag Program. Here's how the Air Quality Flag Program works: each day your Tribe raises a flag that corresponds to how clean or polluted the air is. The color of the flag matches EPA's Air Quality Index (AQI): green, yellow, orange, red, and purple. On unhealthy days, you can use this information to adjust physical activities to help reduce exposure to air pollution, while still keeping people active. We have the flag flying at the tribal office (in the back parking lot), and the flags will be updated daily Monday-Friday.